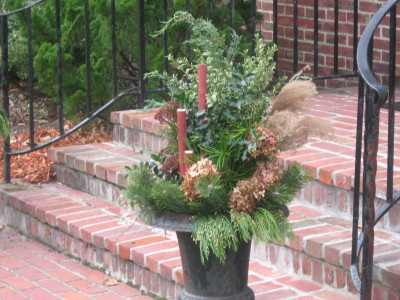 Container gardens offer four seasons of pleasure, fun and creativity. Fall is here and the holidays are fast approaching. Make use of this opportunity to be creative and plan on changing out the plants in your containers. Gorgeous containers bursting with colorful arrangements are a focal point and should always look their best.
The amount of time and money you want to spend on your containers will determine how many times each year you want to change the plantings or add additional plants. It may mean completely changing some pots with each season or just changing a few plants in each pot.
Fall
Fall color schemes revolve around oranges, deep golds and rich reds. Mums are the classic standby, but calendulas, pansies, ornamental kales, diascias, snapdragons and edibles such as beets and Swiss chard make great fall containers.
Winter
In winter, seasonal container gardens can be filled with boughs of evergreens. Some foliage plants, such as springerii, can be left to dry in the containers making a decorative display all winter. Hardy trailing plants including vinca and ivy can remain in the container all winter. Woody plants offer interesting textures in winter and broadleaf evergreens such as holly, daphnes, boxwood, ivy topiaries and small conifers offer interest all winter. Arrangements of red twig dogwood and evergreen branches make a delightful seasonal display in urns near entrances.
Containers with Foliage Plants
Foliage plants and woody plants will work best for containers and planters used as screens and space dividers.
For more information on seasonal containers for your home or business, contact Paul at Fine Gardeners.
extension.illinois.edu